NYFL Tutt Bryant Launch (Formerly Garlbagu Tutt Bryant)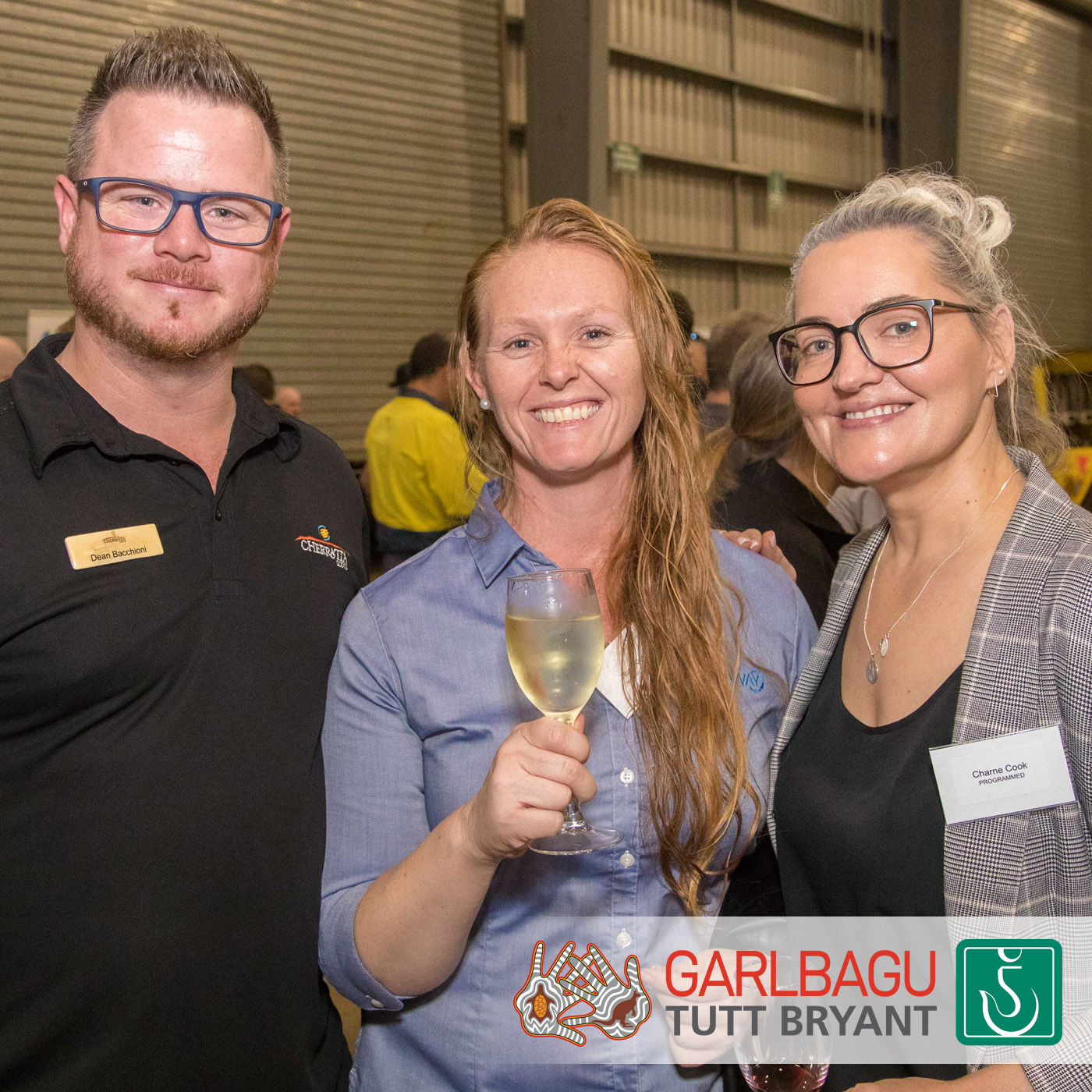 Driving Social Change Through Business.
On Wednesday 30 June, Garlbagu Tutt Bryant proudly hosted the Garlbagu Tutt Bryant joint venture launch at its Gap Ridge Estate facility in Karratha.
Tutt Bryant recently established a joint venture with Aboriginal organisation Ngarluma Yindjinbarndi Foundation Limited (NYFL) to form Garlbagu Tutt Bryant. This joint venture was established to provide the community of the Pilbara region with quality construction and earthmoving equipment hire and service solutions, but most importantly to create employment prospects for the community through training and education pathways.
The event began with a warm welcome to all members from the presenter for the evening, Tanya Dodd, CEO of Karratha & Districts Chamber of Commerce & Industry (KDCCI). Followed by the acknowledgement of country by Patrick Churnside, Cultural Advisor at Murujuga Aboriginal Corporation. Patrick is a Traditional Owner of the Ngarluma and Yindjibarndi Language Groups. His talent to translate stories through performance are represented in stage productions with Australia's leading campaigning arts organisation Big hART. His latest work Tjaabi-Flood Country is a new theatre work designed to tour and bring the beauty of the Pilbara to the world in song, story, sight and sound.
Chen Wei Ng, Managing Director of Tutt Bryant Group Limited addressed the audience via a pre-recorded video due to the lockdown restrictions in Perth at the time. Mr Ng acknowledged the traditional custodians of the land – the Ngarluma people who are the coastal dwellers of the area around Roebourne and Karratha, as well as the neighbouring Yindjibarndi people. Mr Ng expressed his appreciation and respect towards the continuing culture of the Ngarluma and Yindjibarndi people, to the elders from past, present and to all those that attended the Garlbagu Tutt Bryant launch event.
Mr Ng talked about Tutt Bryant predominantly known as a crane and heavy transportation company in the north west for over 20 years, and the steps it is taking to expand all parts of Tutt Bryant to the region. The Gap Ridge facility is the epicentre of Tutt Bryant's strategy including an increased spare parts holding for construction and earthmoving equipment, greater representation for equipment sales, mining and related wear parts. In the case of general equipment hire, Tutt Bryant is proud to partner with NYFL to establish Garlbagu Tutt Bryant. This partnership is an important step in Tutt Bryant's own reconciliation action plan.
Chen Wei introduced the NYFL Directors of Garlbagu Tutt Bryant – Bruce Jorgenson and Kevin Guiness. Bruce Jorgenson talked about the launch of Garlbagu Tutt Bryant and reiterated the positive feedback received to date in relation to the joining of forces with Tutt Bryant Group. Bruce noted the similar values in both organisations and the enthusiasm to create sustainable change for the community in the north west. As part of the Garlbagu Tutt Bryant launch event, Bruce will be organising a dragon boat festival in early October 2021 to be held in Cossack. Companies are encouraged to form a team and participate in this friendly competition.
The launch event concluded with lucky door prizes conducted by Tanya Dodd & Gary Milnes, North West Operations Manager of Tutt Bryant Heavy Lift & Shift. 3 lucky winners will be receiving a gift voucher each, valued at $200.00 and $100.00. Lucky winners were:
Steve Anderson – Norwest Group ($200 gift voucher)
Niamh Herd – Merge Group ($100 gift voucher)
Jerome Tunstead – Karratha Paint and Panel ($100 gift voucher)
Garlbagu Tutt Bryant would like to thank all guests who attended the launch event. We look forward to your company at our upcoming events.
'Together We Are Stronger'
View our photos and videos gallery. (By: Pilbara Site Pics)
About NYFL Tutt Bryant (formerly Garlbagu Tutt Bryant)
Explore Pilbara through Patrick Churnside's latest work, Tjabbi-Floor Country